About Us
The Research Centre for Professional Communication in English (RCPCE) of the Department of English and Communication, The Hong Kong Polytechnic University, was established in 2006. Our members and associates are involved in internationally acclaimed work in professional communication with a focus on discourse analysis, intercultural communication studies, language teaching and assessment, lexical studies, metaphor studies, and sociolinguistics.
Our goals are:
To provide a forum for academics and practitioners with interest in communication in professional settings to engage with each other and exchange ideas
To create and host specialised online corpora for researcher and practitioner reference
To promote best practices in professional communication
To promote knowledge transfer of Applied Linguistics research to the wider community
Professional Communication
Professional Communication is an area where research and development work can yield important theoretical insights as well as practically-relevant outcomes. Not only does research in professional communication dovetail into existing research fields, such as discourse analysis, intercultural communication, managerial communication, organisational behaviour, and so on; its research products can also provide valuable input to the creation of language and communication training programmes and the publication of professionally-oriented textbooks.
We perceive that professional communication is an integral part of a professional identity that can be conceived as follows: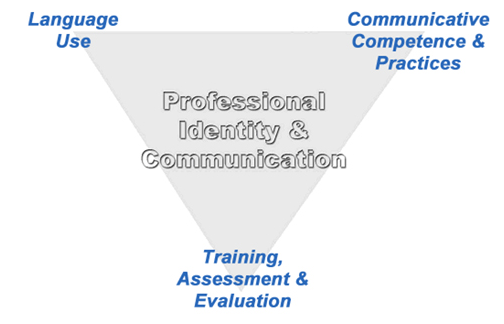 Professional communication is an area which attracts a considerable amount of interest, both in Hong Kong and internationally. Corporations, associations and professional bodies already exist and attempt to apply available research findings in practical ways, through the design and provision of language training programmes (e.g. The Workplace English Campaign), the design and promulgation of language policy (e.g. The Language Campaign), and so on.
Given the importance of communication in professional contexts, it is important that Hong Kong has a research centre which has an unequivocal focus on professional communication. This research centre is the RCPCE.